Discount Furniture Center serves in the South Hill location. We are a top retailer in each of these areas and we work hard to offer a great selection at great prices. If you are shopping for Furniture, Appliances, Electronics and Bedding we promise to make your visit an exceptional one.
Meet Our Staff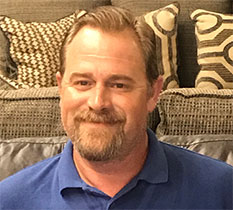 Barry Gittman
Barry is from Brodnax and now lives in South Hill, VA, and has worked at Discount Furniture Center for 9 years. Barry enjoys riding four-wheelers, fishing and anything outside. He loves getting to go out and meet new people while working, and having them call back to say what a good job they did is a great feeling for him!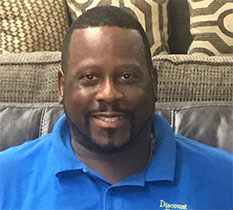 Cecil Purefoy
Cecil Purefoy is originally from New Jersey and currently resides in Brodnax, VA. Cecil has worked here at DFC for 11 years. He loves going to church and serving the true living God. Cecil enjoys the happy look on a customer's face after the delivery is done.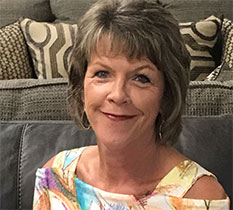 Connie Thompson
Connie Thompson is originally from South Hill, VA. And has worked at DFC for 5 years. She loves gardening, camping, and traveling. Connie enjoys the people that she works with and helping customers find the perfect furniture selection that will make their home more comfortable.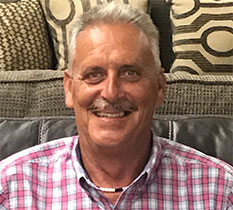 Ernie Thompson
Ernie Thompson has lived in South Hill, VA all of his life and has worked at Discount Furniture Center for 15 years. He enjoys camping, farming and riding motorcycles. Ernie's best memory here is opening the doors in 2002 and working with great employees and customers.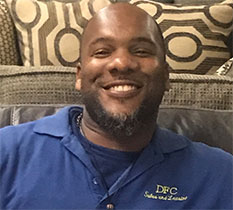 Evan "Randy" Hymon
Randy Hymon is originally from New Jersey and now lives in South Hill, VA. Randy has been with Discount Furniture Center for almost four years. He loves being around his wife and kids, staying in shape, playing Playstation and basketball. Randy's best memory of Discount Furniture Center is when Ernie gave him the keys to the store, because that is the ultimate trust a boss can give an employee.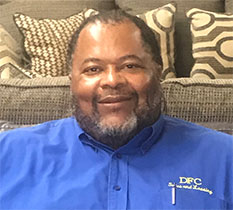 James Brown
James C. Brown Jr. "Rick," is from from Baskerville, VA, and now resides in South Hill. James has worked here at DFC for 8 years. He enjoys riding motorcycles and watching sports. One of James' best memories of working at DFC is one day while standing outside, a customer was leaving Schewels and he asked him, "Did they take care of you?" The customer said said, "Not really." James said, "Can I have a chance?" James showed him our wide selections. The customers said, "I want that and that." Needless to say, James sold him $20k in furniture.
Vanessa Spates
Vanessa G. Spates is Assistant Manager and is originally from and currently resides in Emporia, VA. She has worked here for almost 3 years. She loves spending time with my family, friends, and Nancy. Vanessa says it is her pleasure to get her customers the quality merchandise they will be satisfied with, watching them come into the store with a smile, glad to see our TEAM and wanting to do more business with us! She loves to see new customers coming into our store saying, "My friend or family member sent me here to talk to you about purchasing furniture." We thank all our customers at Discount Furniture Center!! Vanessa is excited about our new location and looking forward to seeing you there!